[smartslider3 slider=36]
Login to start your download.
This content is for members only.
TOO BUSY TO Join Today? We reserve the right to validate your circulation
1082 words
Image links, captions in download document
Search Contributor/Columnist photo gallery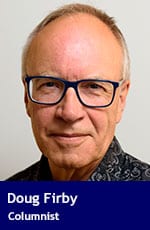 MT. ASSINIBOINE, B.C. – We have always been told that silence is golden. It turns out, it is not.
Silence is pure, blinding white. It surrounds you with countless tiny crystals of powder-dry snow, trillions and trillions of little sound baffles that snuff out any sound other than the crunch of your own footsteps, the pounding of your heart and the rhythmic puffing of your breath.
This strikes me as we labour at the edge of exhaustion across the dazzling white expanse that is Lake Magog, sitting in the shadow of Mount Assiniboine in the Canadian Rocky Mountains. This is the jagged peak that Europeans tagged the "Matterhorn of the Rockies" a century ago when they were trying to convince tourists to come to the New World.
Tourists these days need no such hyperbole. Mount Assiniboine is no European knock-off, but rather an awe-inspiring symbol of the Canadian Rockies – a jagged shard that plays peak-a-boo with the clouds, waiting for a glint of sun to expose its majesty in a way that makes your knees go weak.
This massive rock hangs over my right shoulder as I huff and puff my way across the impossibly still lake. We're headed for the fireside warmth of the little shore-side lodge named after a mountain that dominates the skyline for 20 kilometres in every direction.
My wife and I are a couple of backcountry ski novices who have taken the short, 15-minute chopper ride from Canmore, Alta., to spend a long weekend mixing with an amiable blend of hard-core adventurers and weekend warriors a lot like us. We form instant bonds with an eclectic cohort of people who have one very important thing in common: We all consciously chose to leave our cosy offices behind so we could push themselves until our cheeks turn crimson red, our bodies glow like furnaces and our muscles scream from exertion.
We are basically fit – it is the price of admission to this bleached paradise – but not trained to "skin" our way up the side of a mountain five times in one day, all so the group can hurdle like children down puffy clouds of gentle snow. So, on Day 1, we make it up three times before seizing upon our guide's merciful offer of an early exit.
We are greeted at the lodge by a roaring fire, the seductive aromas of baking bread and a small team of staff who feel like family. Leading the team are Claude and Annick Duchesne, who met and fell in love here about three decades ago. Claude is a renaissance man who came West from Quebec as an adventure-seeking 18-year-old. He coordinates baggage delivery, dashes about problem-solving, entertains all evening and somehow finds the energy and time to lead a group every day. Annick keeps the staff hopping and the amazing kitchen humming.
When the couple need a break, co-owner Andre Renner takes turns spelling them off.
The Renner name has been associated with this iconic lodge for more than 30 years. Andre's parents, Sepp and Barb Renner, bought the rights to manage the lodge in 1983. Their enthusiasm for all things backcountry turned this into a world famous getaway, and was a unique playground for the youthful Andre and sisters Sara (of Canadian Olympic fame) and Katherine.
Assiniboine claims to be the first backcountry ski lodge in the Rockies. It was built in 1928 by the Canadian Pacific Railway to attract "fancy clientele" to the Rocky Mountain wilds. Erling Strom, a Norwegian ski instructor, first laid eyes on the valley when he led a group to Wheeler's Camp, a small group of huts near the site of the current lodge. After a 17-day stay frolicking in the snow, Strom declared this would be where he would spend the rest of his life. After the lodge opened for business in 1929, Strom spent the next 50 years there.
Rebuilt from the foundation up in 2010-11, the lodge is incredibly welcoming but undeniably rustic. The adjacent cabins, where most of the guests stay, have neither bathrooms nor running water. There's nothing quite like tiptoeing along the hard-packed path of snow to the outhouse on a frosty moonlit night, knowing that one false step off the track will sink you into waste-deep powder.
Fellowship and skiing; that's what this experience is all about. Every one treats their fellow adventurers as equals, passing no obvious judgment on even klutzy first-time backcountry skiers like us. We get little tips on techniques to ease our effort from our guide and fellow skiers.
For a guy used to riding a ski lift, skinning up to the top of a run is an incredibly laborious exercise. You learn to pace yourself, with small, deliberate forward slides that drain the least amount of energy. You have a backpack full of water and snacks because you will not make it through the morning without refueling.
And then, there is the delicious moment when the group reaches the top of a run, sheds the skins that make upward climbing possible, grab a few deep breaths as the testosterone builds and then hurl gleefully – like children, once again – into an impossible abyss of pure white. The effort of getting up there makes the fleeting moments of downhill chaos all the more ecstatic. At times, we collapse into a cloud of powder, giggling with abandon.
Every few minutes, we gather to ensure no one has disappeared. We look at each other with the awareness that we are now sharing an exceptional secret – an experience that defies words. Over the family style dinner that evening, we will listen to Andre's tales of adventure, laugh and oh-so-quickly realize that our bodies are telling us it will be another early night.
When that helicopter finally lifts you away from the red tin roofs, you will be stronger, healthier, fitter and have the kind of fresh perspective on life that only comes from having been in a very, very different place. Erling Strom, the man who chose to spend his life here, suddenly seems like the sanest man on Earth.
The details: Summer season starts in late June. You can fly into Calgary, Alta., and then take a 1 ½-shuttle to Canmore. A helicopter will take you the rest of the way, or, if you're really ambitious, you can snow shoe or cross-country ski in. To save your spot, called 403.678.2883 or email info@assiniboinelodge.com. https://assiniboinelodge.com/assiniboine-lodge/rates
The author was a guest of the resort. Content was not subject to review.
---
The views, opinions and positions expressed by columnists and contributors are the author's alone. They do not inherently or expressly reflect the views, opinions and/or positions of our publication.
© Troy Media – All Rights Reserved
Troy Media provides editorial content to media outlets and its own hosted community news outlets across Canada