Faith Wood knows how to resolve conflict. Her years in front-line law enforcement taught her how to effectively de-escalate any situation to a successful conclusion. Faith will use her knowledge of conflict management to guide you through the often stressful experiences you may encounter in your personal or professional life. Her Conflict Coach column appears every two weeks.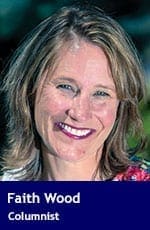 Question: When working from home became a thing last year, I was excited. It seemed so refreshing not to deal with traffic congestion, professional attire and crowded office spaces.
However, with pandemic restrictions continuing more than a year later, the allure has waned. I feel like the lines between home and work have become less clear, and it's starting to take a toll.
How does one become more efficient with a work-from-home situation and avoid unnecessary stress and potential burnout?
Answer: I've been working from home for years – well before restrictions mandated. And it took a bit of planning to figure out how to keep work and personal separate. If there's one disadvantage to working from home, it would be that it's harder to separate your work life and your personal life since both often co-exist in the same space.
---
FREE TRIAL!