Login to start your download.

This content is for members only.
TOO BUSY TO Join Today? We reserve the right to validate your circulation
745 words
Search Contributor/Columnist photo gallery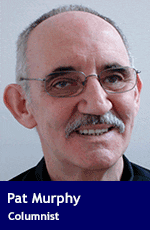 Because my lifelong affair with the movies began at the tail end of the film serial era, I missed most of what's been described as the genre's golden age. But I did experience the thrill of watching a story evolve week to week. It was great stuff, or at least that's how it appeared at the time.
The term cliff-hanger was an apt descriptor.
Typically, a serial would run for 15 episodes – or chapters – with each episode lasting 15 to 20 minutes and culminating with the hero being in deadly danger. Thus hooked, you'd be sure to come along the following week to see how it resolved, which it invariably did only for a fresh danger to appear at the end of the new episode.
My first experience was a jungle tale called Congo Bill. Based on a DC Comics character, it told the story of an adventurer tasked with finding an heiress who had gone missing in Africa.
The episode titles will give you a sense of what it was about. There was The Untamed Beast, The White Queen, Sinister Schemes, Trail of Treachery and so forth.
And, of course, there were the requisite villains, first and foremost being the nefarious uncle who wanted to sabotage the mission so that he could snag the inheritance for himself. Nuance wasn't a big thing with the cliff-hangers.
Congo Bill was filmed in 1948 and made its American debut in October of that year. Three years later, I saw it at the Sunday matinee in the converted bus garage that served as our local cinema in south county Dublin, Ireland. The venue was neither opulent nor large but the matinee was invariably packed to the gills with an overwhelmingly juvenile audience.
Our hero was played by an otherwise little known actor named Don McGuire, who looked just the way a white jungle adventurer should. He was dark haired, sported a thin moustache and wore a pith helmet. If, as a retrospective 21st century critic claims, he was also wooden and uninspiring, our seven-year-old minds would have begged to differ. We thought he was great.
Each cliff-hanging ending was fodder for intense schoolyard discussion over the next week. How could Congo Bill possibly escape from his life-threatening predicament?
There was the occasion when he was about to be swept over a roaring waterfall only to be saved by an overhanging branch which miraculously materialized at the beginning of the following week's episode.
And the time he was being chased by a careening boulder that was just about to overtake and flatten him. Fortunately, the following week revealed him jumping out of the boulder's path at the last second.
Mind you, even seven-year-olds could be pushed too far on the credulity front. When Congo Bill stepped into a snare, was hoisted up by his ankles and shot, we racked our brains for a positive resolution, only to feel slightly cheated as – with no explanation – he emerged completely unscathed the following week.
Unsurprisingly, comics and comic strips were a fertile source of raw material.
Flash Gordon made its serial debut in 1936, a couple of years after the strip first appeared in print. Its success set the stage for a mini-flood of science fiction efforts, including two further iterations – Flash Gordon's Trip to Mars (1938) and Flash Gordon Conquers the Universe (1940).
Similarly, the detective Dick Tracy got the treatment in 1937, going on to spawn three sequels over the following four years.
Westerns, too, were prime candidates.
Based on a character created in the 1919 novel The Curse of Capistrano, Zorro was perhaps the most successful. The masked avenger's first of five serial appearances was in 1937's Zorro Rides Again. Ghost of Zorro, with the character's grandson providing the necessary derring-do, closed out the run 12 years later.
Then there was The Phantom Empire, which gave singing cowboy Gene Autry his first starring role. The combination of horses, music, robots, ray guns and an ancient subterranean civilization fancifully blended science fiction and the western.
All in all, more than 500 serials were produced between the silent era and the mid-1950s. Universal Pictures alone made 137 before calling it a day in 1946.
No doubt, even the genre's best would be cringe-worthy if viewed today. That notwithstanding, I won't countenance a bad word about Congo Bill.
Pat Murphy casts a history buff's eye at the goings-on in our world. Never cynical – well, perhaps just a little bit.
---

The views, opinions and positions expressed by columnists and contributors are the author's alone. They do not inherently or expressly reflect the views, opinions and/or positions of our publication.
© Troy Media – All Rights Reserved
Troy Media provides editorial content to media outlets and its own hosted community news outlets across Canada