---
COMMUNITY NEWS OUTLET ACTION PLAN!
WEBSITE HOSTING AND ALL OUR EDITORIAL CONTENT POSTED TO YOUR SITE DAILY FOR ONLY $129.95 PER MONTH.
Limited time offer: Get your first 2 months FREE!
---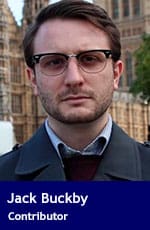 The United Kingdom is inching closer to the end of its transition period between leaving the European Union and officially dropping its trading relationship with the remaining 27 member states.
As of Jan. 1, the U.K. will make its way in the world on its own, trading off the back of entirely new deals already made or being negotiated.
Talks with the European Union have been going on for years, with no end in sight. As EU leaders continue to insist on de facto non-compete clauses with the U.K., stopping the British from offering better deals than their European counterparts to the rest of the world, Prime Minister Boris Johnson warned British businesses to prepare for the dreaded "No deal" scenario.
---
Includes all of our FREE content and access to our Sourcebook.
Pay for PREMIUM content only as needed.
PREMIUM Membership
$129.95/mo
FIRST MONTH FREE!
Includes ALL of our content and access to our Sourcebook.
Billed to your Paypal or credit card monthly.