But even if you're talented and famous, life can be a bitch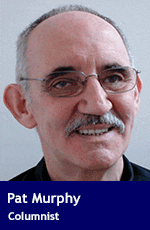 Memories from a sports-mad childhood were rekindled by the Wall Street Journal's recent review of Serving Herself: The Life and Times of Althea Gibson. It brought back to mind not only Gibson but also that other female tennis great of the era, Maureen Connolly. Or to give her the sobriquet by which she was widely known, Little Mo.
It wasn't that tennis was a big thing in my world. Although there was a club in the Dublin suburb I grew up in, my circle only included one person who actually belonged to it and played the game. But when Wimbledon came around in early summer, tennis was heavily featured in the sports pages and cinema newsreels and thus the subject of avid attention.
Born in South Carolina and raised in Harlem, Gibson was the first black player to win a Grand Slam singles title. In fact, she won five, including back-to-back Wimbledon championships in 1957/58. No less a personage than Serena Williams credits her as having "paved the way for all women of colour in sport."
777 words
Reading Time:
3
minutes
NOT YET A PREMIUM MEMBER?
In addition to winning titles, Gibson was named Female Athlete of the Year for two years running and was featured on the cover of both Time and Sports Illustrated. Scoring a Time cover was a big deal in the 1950s.
But the Gibson difference went beyond the colour of her skin or the size of her talent. Tall and sinewy, she stood out physically from her peers. And she also made little or no attempt to cultivate a cuddly or congenial persona. You could say she was very much her own woman, someone who purposefully eschewed roles others sought to cast her in.
For instance, she wasn't interested in being a racial ambassador. Speaking to the New York Times in 1956, she described herself as "just another tennis player." And to quote her 1958 autobiography, "I have never regarded myself as a crusader … I don't consciously beat the drums for any special cause."
Gibson's 1950s prowess was surpassed only by Maureen Connolly, a San Diego native who won her first Grand Slam singles title in 1951 at the age of 16. There were to be nine Grand Slams in total, including a clean sweep in 1953 and three consecutive Wimbledons (1952-54). Until her career was cut short by an accident prior to her 20th birthday, Connolly was virtually unbeatable.
Doris Hart, a champion herself, described losing to Connolly at Wimbledon in 1953: "When I came off the court, I felt like I had won. I couldn't play any better … She was better in every way."
Although the private Connolly was a friendly teenager who loved hamburgers, horses, baseball and dancing, it was a different proposition on the court. There, she was a focused, remorseless competitor. In her own words: "I hated my opponents. This consuming hate. I believed I could not win without hatred."
Then tragedy struck in July 1954, courtesy of an accident involving her horse and a concrete mixer truck. With her right leg badly damaged, Connolly's spectacular career ended a couple of months before her 20th birthday.
Notwithstanding their talent and success, neither Gibson nor Connolly enjoyed the financial rewards available to today's players. Championship tennis was an amateur sport back then, and sport in general didn't generate the enormous salaries and prize money we're so familiar with now.
Gibson was typically forthright on the subject, noting that the landlord, grocer and tax collector had a distinct preference for cold cash: "I reign over an empty bank account, and I'm not going to fill it by playing amateur tennis."
So turning professional was an obvious strategy and Gibson took the plunge in late 1958. Connolly would've done the same had her accident not occurred.
However, professional tennis was much less lucrative in the 1950s, especially for women. The tournament structure, television exposure and advertising dollars simply weren't there. For the most part, the circuit consisted of embarking on a multi-city tour playing exhibition matches against the same opponent week after week. Gibson debuted as the opening act for the Harlem Globetrotters basketball team, playing a series of 118 matches against Karol Fageros. She won all but four of the encounters.
Alas, both women had more trouble in store.
Connolly was diagnosed with ovarian cancer in 1966 and died three years later at the age of 34. Gibson lived to 76, but her final years were dogged by ill health and financial penury.
Even if you're talented and famous, life can be a bitch.
Pat Murphy casts a history buff's eye at the goings-on in our world. Never cynical – well, perhaps a little bit.
For interview requests, click here.
---
The opinions expressed by our columnists and contributors are theirs alone and do not inherently or expressly reflect the views of our publication.
© Troy Media
Troy Media is an editorial content provider to media outlets and its own hosted community news outlets across Canada.